Austin's real estate market has continued its meteoric rise. A recent study by the Urban Land Institute, detailed in an Austin Business Journal article, underscores this trend, painting a picture of a city whose growth and dynamism are unmatched in many respects.
Dubbed a "magnet city" and a "supernova city" in the ULI's 2024 Emerging Trends in Real Estate report, Austin stands out for its rapid expansion and allure for both people and businesses. Despite slipping to fifth place from third last year, Austin's presence alongside other booming Sunbelt cities like Nashville, Phoenix, Dallas-Fort Worth, and Atlanta speaks volumes about its sustained appeal.
The Industrial Sector: A Rising Star
In my experience, the industrial sector in Austin has been particularly vibrant. Big names like Tesla Inc. and Samsung Electronics Co. Ltd. have not only invested heavily in the region but also enhanced its industrial prowess. With 17 million square feet of industrial space under construction as of the third quarter of 2023, there's a clear indication of sustained growth, albeit slightly down from the previous year.
The population growth in Austin and its suburbs further fuels this industrial expansion. The influx of people not only drives demand but also provides a robust workforce for these burgeoning industries. This synergy between population growth and industrial development is a key factor in Austin's ongoing success story.
The Office Market: Challenges and Opportunities
However, not all sectors are experiencing the same level of success. The office market, particularly in downtown areas, faces challenges in the post-pandemic landscape. The shift towards hybrid work schedules and other economic factors have led to increased vacancy rates and a reevaluation of office spaces.
Yet, it's crucial to understand that this is not just a challenge but an opportunity for reinvention and adaptation. As someone deeply immersed in the real estate market, I believe that Austin's ability to adapt and evolve will play a crucial role in navigating these changes.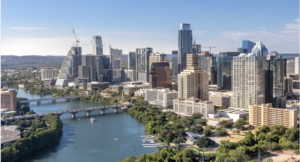 A Diverse and Resilient Economy
Austin's resilience is also evident in its downtown recovery, which is closely aligned with the national average. The diversity of its economy, including strong sectors like entertainment, education, and health, contributes significantly to this resilience.
 Looking Ahead
As we look to the future, it's clear that Austin's real estate market remains a hotbed of opportunity, driven by a combination of industrial growth, population influx, and a diverse economy. While challenges exist, particularly in the office sector, the city's capacity for innovation and adaptation positions it well for continued success.
For a more detailed insight into the Urban Land Institute's findings, I encourage you to read the original article from the Austin Business Journal here. Their comprehensive analysis provides valuable context to understand the nuances of Austin's thriving real estate landscape.