Before we catch up on national and state highlights, I'm excited to share a unique opportunity with you – the chance to shape the future of our upcoming 250-unit apartment in Austin, Texas. Your input means the world to us, and we're excited to present three distinct design options for this project.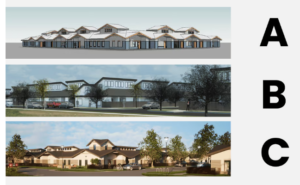 Please take a moment to review the attached elevations and let us know which design resonates with you the most. Your feedback will play a pivotal role in determining the final design, and we are eager to create a space that our community will be proud to call home.
Simply fill out the form given below "A," "B," or "C" to indicate your preference. We can't wait to hear your thoughts, and we're grateful for your contribution to this exciting journey.
I recently visited the largest investment in Texas, Samsung $17B factory in Taylor, TX.
Last year we brought in an investment opportunity just across the street from this location just before the announcement.
Lucky for the investors who got in into that deal. It filled up in two hours and we were 3x oversubscribed.
This manufacturing plant is HUGE !! and changing the landscape of this small city north of Austin, TX. I am not sure whether I am just looking at one phase or multiple phases as I see there are three more parcels of development with Samsung name on it. A few friends from Samsung that recently relocated into Austin said they are requested to move to Taylor, TX as part of Samsung's commitment to city of Taylor. They are hiring many other engineers as well.
Samsung recently requested for an additional nine more factories in Taylor, TX. Manufacturing plants are the golden goose of job supply. They create opportunity for inflow of money into a sub market and create direct and indirect jobs. This is real estate 101 at its core.
I was thinking that it's going to be 5-7 years for Taylor, TX to be a big town but after the visit yesterday, I think it's more like 3-5 years now. If you want to be part of deals like this, pls register to be in our email list by clicking on my bio or come to our website at Achieve Investment Group. Please keep in mind that more than 5000 readers open and read our newsletter every week.
What's Happening In The Multifamily Industry?
A Recession Is Not a Foregone Conclusion
Economists no longer widely anticipate a recession. In a recent survey of 65 economists conducted by The Wall Street Journal from October 6 to 11, they lowered the probability of a recession within the next year from 54% in July to a more positive 48%. This marks the first time the likelihood has dipped below 50% since last year. The primary reasons for this optimism are declining inflation, the Federal Reserve's decision to halt interest rate hikes, and better-than-expected economic growth and job market performance.
About 60% of the surveyed economists believe that the Fed has concluded its current interest rate increase cycle, with approximately 23% expecting the final rate hike in November and 11% in December. Roughly half of the economists predict that the Fed will begin lowering interest rates in the second quarter of the following year, as economic growth slows down and the unemployment rate, which stood at 3.8% in September, rises to 4.3% by June.
A significant majority (82%) of economists believe that the Fed's existing interest rate target range of 5.25% to 5.5% is restrictive enough to bring inflation back in line with the Fed's 2% target over the next two to three years. Furthermore, economists expect that yields will decrease in the coming months, with the 10-year Treasury yield projected to close at 4.47% by the end of this year and drop to 4.16% by June 30 of the next year.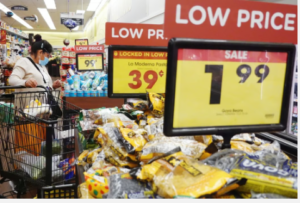 2024 U.S. Apartment Market Forecast
Real Page's 2024 forecast is optimistic, with expectations of robust demand, a remarkable year for supply, occupancy rates in line with historical averages, and an annual rent growth ranging from 1% to 2%.
4th Quarter 2023 Projections for 2024:
Demand
While job growth is predicted to continue slowing throughout 2024, the desired "soft landing" in the economy seems to have been mostly achieved. This perspective anticipates the economy will maintain enough momentum to support household formation.
Moreover, a drop in inflation coupled with robust wage growth has led to "real" wage growth for the first time in years, reinforcing expectations of strong demand for apartments in 2024.
Supply
In 2024, there is a substantial supply of multifamily units on the horizon, with over 600,000 market-rate units expected to be completed, making it a banner year for deliveries. Even if supply delays become more common, 2024 is set to surpass the past four decades in terms of multifamily unit deliveries.
The most significant change in the forecast is for 2025 and 2026 when supply expectations drop by 15% to 20% in most major U.S. markets due to a sharp adjustment in identified project starts.
Rent / Occupancy
Expectations for 2024 include occupancy rates consistent with historical norms, with the U.S. average hovering around the lower 94% range. Annual effective rent growth in many markets is projected to remain in the 1% to 2% range.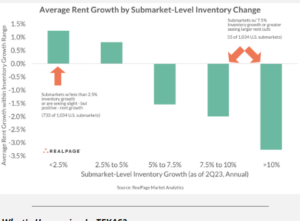 What's Happening In TEXAS?
In 2021, California to Texas became the nation's most frequently traversed interstate migration route, as per an analysis conducted by StorageCafe, a storage-space search platform, utilizing Census Bureau statistics. During that year, approximately 111,000 individuals, or roughly 300 people daily, relocated from California to Texas.
At the outset of 2014, nearly two-thirds of homes in San Antonio were considered affordable for families with median incomes. However, by the conclusion of 2022, this figure dwindled to less than one-third.

The most recent data available, encompassing 2019 and 2020, highlights that the principal source of net migration to Bexar County, home to San Antonio, was Southern California. This was followed by other Texas counties located primarily along the border, and states such as Hawaii, Illinois, and Washington.
Here are the top ZIP codes in the U.S. for apartment construction article by Jay Parsons. Any surprises? It's a list dominated by downtown / urban submarkets stretching from coast to coast — from New York City to Nashville to San Diego. In fact, 15 of the top 25 ZIP codes could be reasonably classified as urban … which is another reminder that the biggest barriers to entry in this era are higher-end, infill suburban areas that (generally speaking) have NIMBY-tastic tendencies biased against multifamily development and therefore limited zoning that allows it. Some notables:
1) Central Nashville is in a tier of its own… the 37203 ZIP code includes the western portion of Nashville's urban core, including the Gulch and stretching out to Centennial Park. On top of the 7,431 units under construction in ZIP 37203, there are another 1,951 units that completed in the last 12 months. And if you include the broader Central Nashville submarket, you can add in another 4,169 units either under construction or in lease-up. In total, the submarket is expanding its apartment stock by 50% when you add up lease-ups and current construction.
2) Some highly active hubs in key parts of eastern coastal gateway markets including that are allowing construction. This includes the Long Island City area (11101 in Queens), west side of Jersey City (07306) and Downtown Brooklyn area (11201). Another Northeast urban core (Center City Philadelphia) is also a big hotspot. Zip 19123 stands out the most, but others nearby are active too. (Well done, Philly, for opening its doors to more housing.) Also shoutout to Northeast DC.
3) Lots of other urban submarkets on the list from all regions of the country. This includes urban/CBD submarkets of Raleigh, Atlanta, Denver, Miami, Austin, Fort Lauderdale, Charlotte and San Diego. Lots of others came close to the list or would rank higher when measuring the full submarket, including spots like Chicago, Los Angeles, Seattle and Phoenix.
4) While the list is dominated by urban submarkets, some suburbs do stand out as exceptions. Charlotte has several highly ranked. Other active hotspots include Frisco (Dallas), Goodyear (Phoenix), Redmond (Seattle) and Kissimmee (Orlando).
And of course, West Huntsville in Alabama … and it's not just that ZIP code. Huntsville metro area is the national leader (by far) for apartment construction relative to size.