In recent years, the demand for multifamily housing has skyrocketed, leading to a construction boom in various cities across the United States. This article explores the top 10 markets at the forefront of this multifamily construction trend. From bustling metropolises to up-and-coming suburban areas, these cities are experiencing significant growth in the multifamily real estate sector.
1 – Austin, TX
Stealing the spotlight is Austin, Texas, with 61,873 units under construction as of May 2023. Moreover, an impressive 106,000 units are in the planning and permitting stages. Despite a drop in new construction starts, Austin's robust development activity keeps the city at the top of the list.
2-Dallas, TX
Dallas, the long-standing leader, is now the runner-up with 60,532 units under construction. The city's solid demand has maintained a robust construction pipeline, with another 163,000 units in the planning and permitting stages.
Dallas has emerged as a significant player in the multifamily construction market, fueled by its business-friendly environment and affordable cost of living. The city's population growth and low unemployment rate have contributed to the rise in demand for multifamily properties.
3-  Miami, FL
Miami is our third star with 44,532 units under construction across 159 properties. The city has seen a drop in construction starts, but with a whopping 259,000 units in the pipeline, Miami's future in multifamily development is bright.
4- Atlanta, GA
Atlanta ranks fourth with 41,204 units under construction. Despite a 17% drop in new construction starts, investor confidence in Atlanta remains strong, signaling a promising future for the city's multifamily sector.
With its warm climate and booming job market, Atlanta has become a hotspot for multifamily construction. The city's strong economic growth and a surge in millennials seeking urban living have propelled the demand for multifamily housing options.
Known for its beautiful beaches and vibrant nightlife, Miami has seen a surge in multifamily development in recent years. The city's appeal to domestic and international buyers has bolstered its multifamily real estate market.
5- Phoenix, AZ
Phoenix completes our top five with 39,875 units under construction. Although it lags in the volume of units under construction, Phoenix leads the pack in completions with 3,811 units coming online in the first four months of 2023.
Phoenix's sunny weather and lower cost of living have made it an attractive destination for retirees and young professionals. This has resulted in a significant increase in multifamily construction as developers capitalize on the growing demand.
6- New York City, NY
New York City remains a top contender in the multifamily construction boom due to its status as a global economic hub. The city's ever-expanding job opportunities and cultural attractions continue to attract a diverse population, creating a consistent demand for multifamily properties.
New York City was not far behind, with 38,859 units under construction in 124 properties and over 95,000 units in the planning and permitting stages. Through May, inventory expansion was relatively minimal, with only 137 units delivered, accounting for 0.2 percent of existing multifamily stock, the lowest rate on this list.
7.Denver, CO
Denver's picturesque landscapes and outdoor recreational opportunities have attracted many new residents. The city's population influx has led to a surge in multifamily construction to accommodate the rising demand.
As of May 2023, Denver ranked sixth, with 35,893 units under development in 162 properties. Furthermore, nearly 143,000 units were in the planning and permitting stages. During the first four months of the year, deliveries totaled 1,696 units, accounting for 2.4 percent of the metro's total stock.
New construction starts fell 31.7 percent in the first quarter of 2023 compared to the same period the previous year, reaching 1,580 units. Despite being significant, the rate is the third lowest among the metros in this list. The number of properties reduced as well, from 11 to nine.
8- Houston
Houston, the third Texas market on this list, had a multifamily construction pipeline with 71,000 units in the planning and permitting stages and 34,709 units under construction across 132 properties. The third lowest volume of deliveries among metros in this ranking, developers completed 1,686 units through May, representing 2.3 percent of the metro's total stock.
After Houston's 5.1 percent inventory growth the previous year, which put it second in the country for deliveries as a percentage of existing stock, there were far fewer new construction projects starting in Houston this year. Just 1,660 units in the metro saw the beginning of construction in the first quarter of 2023, a significant decline of 62.2 percent from the first quarter of last year when 4,394 new construction starts were registered.
9-  Los Angeles, CA
As the largest city in the United States, Los Angeles boasts a thriving entertainment industry and a strong job market, making it an attractive destination for multifamily development. The city's diverse neighborhoods cater to a wide range of demographics, further driving the need for multifamily housing.
Los Angeles is the sole California city on this list, with 32,306 units under construction and another 160,000 in the planning and permitting stages. With 239 properties under construction, it ranks top in this ranking of metros. Meanwhile, deliveries totaled 1,926 units, or 2.7 percent of current inventory.
During the first quarter of 2023, just 814 units were built in Los Angeles, the lowest volume among the top ten. The volume was down 61.4 percent from the 2,110 units that began building at the same period previous year.
10 – Charlotte, NC
Charlotte's strong job market and affordable housing options have contributed to its multifamily construction boom. As more businesses relocate to the area, the demand for housing has increased, leading to a rise in multifamily developments.
Charlotte's pipeline rounded out our top 10, with 32,188 units under development over 137 locations and another 100,000 in the planning and permitting stages. The metro's 1,538-unit delivery volume through May was the second lowest on this list, only surpassing New York City.
Through March, construction starts fell to 1,459 units, down from 3,287 units in the first quarter of 2022. This represented a 55% decrease in new building, lagging the national contraction rate of 48.6 percent.
These cities, leading the multifamily construction charge, account for a whopping 40% of the national figure. Despite a slowdown in deliveries across the U.S, Texas maintains its dominance.
As we navigate through changing market demands and more stringent financing conditions, it's essential to keep an eye on these trendsetting metros. They not only provide us with valuable insights but also inspire us to adapt and evolve in this dynamic industry.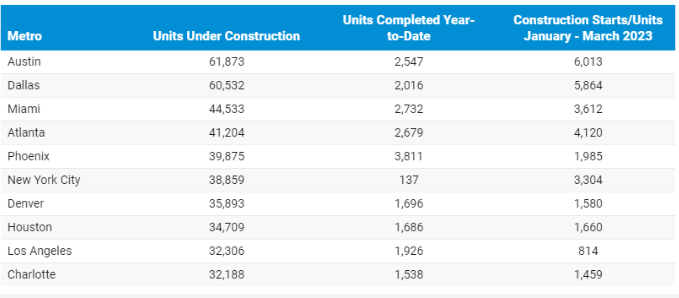 Source : https://www.multihousingnews.com/top-markets-for-multifamily-construction/
Conclusion
The multifamily construction boom is shaping the real estate landscape in several key markets across the United States. From the bustling streets of New York City to the sun-soaked shores of Miami, each of these top 10 markets is experiencing significant growth in multifamily housing development. As population trends and job opportunities evolve, the demand for multifamily properties will likely remain strong in these cities for years.
FAQs
Is multifamily housing a good investment?
Multifamily housing can be an excellent investment, especially in markets with high demand and population growth. It offers the potential for consistent rental income and long-term appreciation.
What factors contribute to the multifamily construction boom?
Several factors contribute to the multifamily construction boom, including population growth, job opportunities, and the attractiveness of a city to new residents.
  Are there opportunities for real estate investors in these markets?
Yes, real estate investors can find promising opportunities in these markets, but thorough market research and due diligence are essential before making any investment decisions.
How can I stay updated on the latest developments in these markets?
Following reputable real estate news sources and local market reports and working with experienced real estate agents can help you stay informed about the latest developments in these markets.
Are there any risks associated with multifamily investments?
Like any investment, multifamily real estate carries risks, such as economic downturns, changes in market conditions, and tenant turnover. Conducting proper risk assessments and having contingency plans can help mitigate these risks.