We hope this email finds you well. Today, we bring you exciting insights about the multifamily development scene in the U.S. It's time to discover the top five metros that are shaping the future of multifamily construction according to Yardi Matrix.
1. Austin – The New Champion
Stealing the spotlight is Austin, Texas, with 61,873 units under construction as of May 2023. Moreover, an impressive 106,000 units are in the planning and permitting stages. Despite a drop in new construction starts, Austin's robust development activity keeps the city at the top of the list.
2. Dallas – The Close Contender
Dallas, the long-standing leader, is now the runner-up with 60,532 units under construction. The city's solid demand has maintained a robust construction pipeline, with another 163,000 units in the planning and permitting stages.
3. Miami – The Tropical Powerhouse
Miami is our third star with 44,532 units under construction across 159 properties. The city has seen a drop in construction starts, but with a whopping 259,000 units in the pipeline, Miami's future in multifamily development is bright.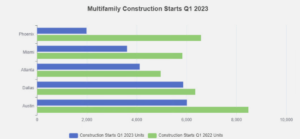 4. Atlanta – The Southern Gem
Atlanta ranks fourth with 41,204 units under construction. Despite a 17% drop in new construction starts, investor confidence in Atlanta remains strong, signaling a promising future for the city's multifamily sector.
5. Phoenix – The Desert Dynamo
Phoenix completes our top five with 39,875 units under construction. Although it lags in the volume of units under construction, Phoenix leads the pack in completions with 3,811 units coming online in the first four months of 2023.
These cities, leading the multifamily construction charge, account for a whopping 40% of the national figure. Despite a slowdown in deliveries across the U.S, Texas maintains its dominance.
As we navigate through changing market demands and more stringent financing conditions, it's essential to keep an eye on these trendsetting metros. They not only provide us with valuable insights but also inspire us to adapt and evolve in this dynamic industry.
Exciting News! 📣
Last week we hosted an exclusive webinar titled "How To Make Millions By Buying And Selling Businesses While Investing In Real Estate: Strategies from the King of Exits" Joinees loved this webinar, and we hope you'll too. So what are you waiting for? Register Now to get this on-demand webinar recording.
This is a golden opportunity to break free from your traditional boundaries of passive investing. We introduced a unique strategy that combines the lucrative worlds of business trading and real estate.